Pong-ino 0.4 shows off a complete options menu
---
Hi everyone!

I've finally found some little time to update Pong-ino.

What is better than removing one line from the todo list?

=== TODO LIST ===

Find some solution for the ball movement jerkiness (try to apply paddle movement solution)
Improve the angle calculation at bounce (make it wider when the ball hits the end of the pads)
Make the classic mode as close as possible to the original
Add some spice to the Modern mode (powerups, maybe?)
Improve Menu screen graphics and functions (HA! THERE YOU GO!)
Add an OPTIONS submenu to main menu (BYE BYE, BABY!)

Removing two lines from the todo list! :D

I've decided to dive a bit into pixel art.

Thanks to several excellent pixel artists (Davit Masia, David Capello and other heroes) on Twitter I've received some amazing links and suggestions.

Links:
I am now learning pixelart using Aseprite. This program is so good I want to cry, you find it here.
Imho 200% worth the money but I think you can also compile it if you cannot pay.

In the end Ryno Jellies was so kind not only to teach me but also to show me his own idea of my ultra ugly and basic Pongman that was inspired by this funny pic I've found on Google Images: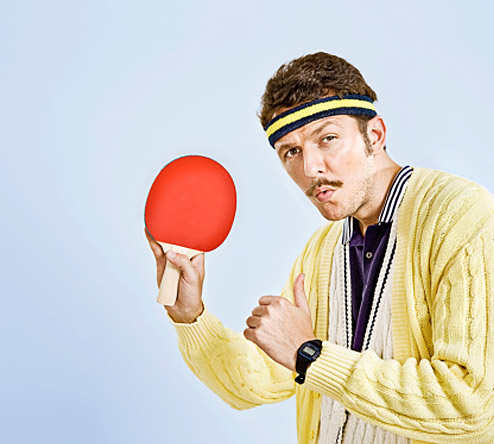 On the left you see my horror, on the right you see Ryno Jellies awesomeness: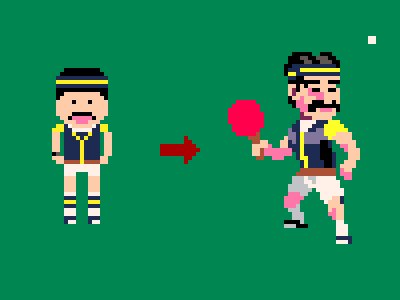 Tweet and link to original img:

a late night #pixelart edit request by @pitto of his #pico8 pongman pic.twitter.com/driwGje4wl — Ryno Jellies 🐄 (@RynoJellies) 29 settembre 201
I will keep on improving and polishing Pong-ino as soon as I have more time.

If you have 60 seconds and feel like trying it I would be very happy to receive a feedback and/or a suggestion.

Have a great day :)
Files
pong-ino.zip
Play in browser
Oct 03, 2017